HIGHLORD | PREVIOUS ALBUM FOR FREE! GET YOUR CODE
[2013-01-29] Banda | Band: HIGHLORD

Italian Melodic Metal Highlord Crazy Giveaway 2013!

To celebrate the release of our seventh album: "The warning after" we are giving you 100 codes to download our previous album: "the death of the artists" for free. It's easy!

Step 1 Go to facebook.com/highlordofficial
Step 2 LIKE IT and post a COMMENT
Step 3 Send your FB name to promo2013@highlord.it and HIGHLORD will send you one of the 100 codes.


www.highlord.it






Vigilance: 'Queen of the Midnight Fire' Artwork Revealed
[2013-01-29] Banda | Band: VIGILANCE



The Slovenian occult act Vigilance is proud to reveal the artwork of their upcoming album entitled "Queen of the Midnight Fire".
"Queen of the Midnight Fire" is scheduled to be released on Metal Tank Records (Exact date T.B.A.). Ripping with its excellent mixture of genuine traditional Speed / Heavy Metal filled with profound devotion for primordial occultism, Vigilance itself reflects perfectly a lethal dose of true metal, real old school attitude fueled with dark emotions and spell bound intensity.
Prepare for a voyage beyond mortal knowledge.

The following song titles are expected to appear on "Queen of the Midnight Fire":

01. Panic Attack
02. Dismay
03. Messiah of Decay
04. Away from Reality (Instrumental)
05. The Wave of Death
06. Playground of Visions
07. Revelation Of Truth (Acoustics)
08. Cruel World (Society to Adapt)
09. Unbearable Conditions

More information can be obtainted by visiting the renewed site at www.metaltankrecords.com

SUICIDE NATION | SHOOT TO KILL is avaliable under AUSTRALIS RECORDS
[2013-01-28]



Formado el 2006 por Félix Arto (voz), Matías González (batería) y Guillermo Ramírez (Bajo) Suicide Nation entraría a la escena nacional con la edición de su primer Ep ANOTHER WAY TO DIE en el año 2009 con el cual al banda comenzaría a mostrar las ideas musicales y todo su poderío interpretando un Thrash Metal Poderoso y con ideas muy frescas. Una mini gira a Argentina, ser finalistas del concurso Escudo Rockaxis y haber teloneado a Monstrosity en sus ciudad fueron la antesala de la creación de su álbum debut grabado en los Estudios Cardioide (Postumo Lumbre, Unsilent) propiedad además de su actual guitarrista Carlos Puentes.

Por ahora la banda esta en la promoción de su álbum y algunas fechas para el lanzamiento de su álbum en su ciudad natal. El arte del disco estuvo a cargo de Miguel Toxik, el listado de temas de este disco es el siguiente:
- See the World Burn
- Another Way to Die
- Shoot to Kill
- No Bound to Violence
- Reaper
- Day of Destruction
- In Cold Blood Crime
- Suicide Nation
- Born Guilty


Por estos días Shoot to kill es el single seleccionado el cual puedes escuchar en el siguiente link: https://soundcloud.com/australis-records/03-shoot-to-kill
Para más información y obtener tu copias solo escribe a: sales@australisrecords.com
PANIKK | "Unbearable Conditions" Artwork Revealed
[2013-01-24] Banda | Band: PANIKK



The cover artwork for PANIKK's new album entitled "Unbearable Conditions", has been revealed. Due worldwide on March 12, 2013 via Metal Tank Records the album will contain the following track listing:
01. Panic Attack
02. Dismay
03. Messiah of Decay
04. Away from Reality (Instrumental)
05. The Wave of Death
06. Playground of Visions
07. Revelation Of Truth (Acoustics)
08. Cruel World (Society to Adapt)
09. Unbearable Conditions

The single "Panic Attack" from the forthcoming album has been posted online at YouTube.com (http://www.youtube.com/watch?v=mE0jsQQdrZk).
PANIK'S "Unbearable Conditions" contain nothing but fast, old school and untamed thrash metal from one of the leading Slovenian bay-area influenced metal bands in the vein of VIO-LENCE, EVILDEAD, FORCED ENTRY and ACID REIGN.
More information can be obtainted by visiting the renewed site at www.metaltankrecords.com

TOTENGEFLÜSTER (Germany) | Debut album: Vom Seelensterben (2013.02.01)
[2013-01-24]



Band: TOTENGEFLÜSTER (Germany)
Release: "Vom Seelensterben" (Self-financed, Debut full-length, Febr. 01. 2013)
Genre: Symphonic Black Metal

Guest-Musicians:
Schinder Papst (Zanthropya EX)– additional vocals on Ein Traumgespinst
Aggreash (Lyfthrasyr) – additional choir on Gefrorene Tranen
Ani – additional vocals on Ein Monolog im Mondschein

Producer: Marc Globig (Chaossphere) / Warroom Studios – Spaichingen
Artwork & Layout: Totleben (Simon Bossert)
Photography: 1st Mistress Photography

TOTENGEFLÜSTER - LINE-UP:
Totleben - Composition, All Instruments, Orchestration & Artwork
Narbengrund - Vocals & Lyrics, Concept
Schattendorn - Drums

TOTENGEFLÜSTER - ONLINE:
http://www.totengefluester.de/
http://www.youtube.com/user/TOTENGEFLUESTER
http://www.reverbnation.com/totengefluester
http://www.myspace.com/totengefluester

Worstenemy sign with WORMHOLEDEATH/Aural Music Group
[2013-01-23]



Italian death metal veterans Worstenemy have signed a deal with Wormholedeath/Aural Music Group.

Wormholedeath will release their debut album titled "Revelation" world-wide through Aural Music Group with a further help from Grom Records in the eastern countries. The album was recorded and mixed at Mathlab Recording Studio (Italy) with producer Jonathan Mazzeo (Mechanical God Creation , The Way Of Purity), and mastered by Mika Jussila at Finvox Studios (Finland).

Release date is due during 2013 still to be scheduled.

Reference links: http://www.worstenemy.it
www.wormholedeath.com
Press inquiries: worm@wormholedeath.com

MOLLLUST (Germany) | New website online
[2013-01-22]



OPERA METAL updated online!
Roundabout renewed and updated band website with finest design, multiple informations, shop, personal band diary, live-dates etc. etc. is online now:
http://www.molllust.com/

The fine ensemble around soprano mistress Janika GroB from Leipzig, Germany, celebrates sophisticated OPERA METAL.
With their last album "Schuld" the East Germans show their most strongest, most aesthetic, most emotional and in substance most profound side.
The last 3 months after the album release brought the wonderful formation a huge success.

Libria sign publishing and distribution deal with WORMHOLEDEATH
[2013-01-22]



Italian super group featuring Marianna Alfieri (Kirlian Camera, Spectra Paris, Dark Lunacy), Gregorio Ferrarese (The Modern Age Slavery), Elena Alice Fossi (Kirlian Camera, Spectra Paris), Fabio Palombi (Nerve, Ritual of Rebirth) has signed a publishing deal with Wormholedeath/Dreamcell11/Aural Music Group.

Wormholedeath/Dreamcell11 will release their debut album titled "Immortal daughter of aesthetics" world-wide through Aural Music Group. Release date is due during 2013 still to be scheduled.

Album preview: http://www.youtube.com/watch?v=ZrxboJnCCwY

Reference links:
http://www.libriaofficial.com
http://www.facebook.com/libria.project
Label: http://www.wormholedeath.com
Press inquiries: worm@wormholedeath.com

Era del Metal XXIV
[2013-01-22]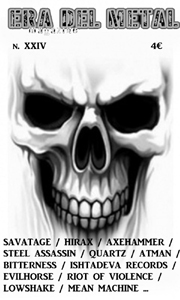 A la venta el nuevo número del fanzine más veterano en territorio nacional en la actualidad con 24 los números editados.

Entrevsitas con Savatage, Hirax, Steel Assassin, Lowshake, Evilhorse, Bitterness, Quartz, Atman, Mean Machine, Riot of Violence, Ishtadeva Records... críticas, reportajes.

El precio son 4 euros, el tamaño continúa siendo A4 en blanco y negro. eradelmetal@hotmail.com

SKY STALKER MEDIA
[2013-01-21]



Sky Stalker Media just launched a division for pressing cds/dvds/usb sticks
We know they offer the best quality at a very low cost! Just give them a try!

If you are interested in their services just drop us a line here! worm@wormholedeath.com
Like their facebook page!
http://www.facebook.com/SkyStalkerMedia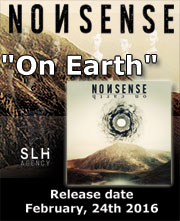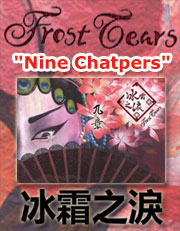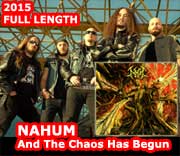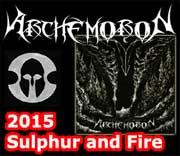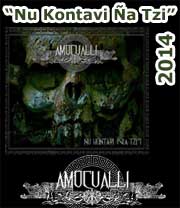 VIDEO
---
ENTREVISTA CON SICK SOUL [2016.08.13]
Banda activa de 1998 a 2005.
Grabado por Milady Noise
EAP, Monterrey, N.L. México
Agosto 2016
Editado por Milady Noise
Monterrey, México
Mayo 2017
Banda | Band:
SICK SOUL
---
---
THE FALLACY - Lost In Disguise (Official Video)
The Fallacy's new official single 'Lost In Disguise'
Video Produced and Directed by The Fallacy
Edited by Dario Chaparro
Post Production by The Fallacy
Cover Art design by Hatim Bahia
Banda | Band:
THE FALLACY
---
---
ENTREVISTA CON GRIMORIAN | BLACK RING [2017]
Grabado y editado por Milady Noise
Monterrey, N.L. México
@2017
Banda | Band:
GRIMORIAN
---
---
DUNKELNACHT - Ritualz Of The Occult (Lyric video)
Starring M.C. Abagor.
From the 2016 "Ritualz Of The Occult" EP.
Video directed by Nicolas Bouché, Heimdall & Alkhemohr.
Banda | Band:
DUNKELNACHT
---
---
Grimorian - Crescent Hotel
Album: Black Ring (2015)
Banda | Band:
GRIMORIAN
---