NEE!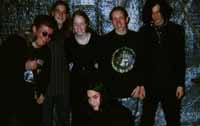 CONTACTO | CONTACT
País | Country: HOLANDA | THE NETHERLANDS

Estatus | Status: ACTIVO
Fecha de registro | Register date: 2002-05-05

nee_heerst@hotmail.com WWW


BIOGRAFÍA | BIOGRAPHY

NEE! started in 1998 as a three-member band but by now the number of members doubled. NEE! plays in a rough, brutal and sometimes in a weird style, that also counts for the lyrics which are also rough, brutal and weird.
I think NEE! is hard to compare with other bands so we call the style we play NO-core (nee is dutch for no). NEE! began active on stage since last year and made some crowds in extasy... in present and future NEE! will go on with this!

BANDAS | BANDS
NOTICIAS | NEWS