BELLADONNA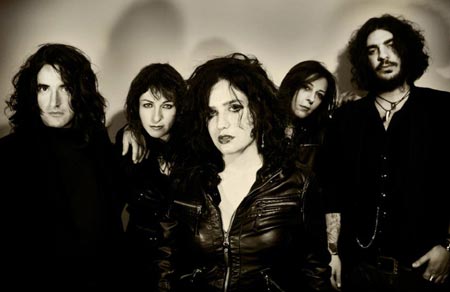 CONTACTO | CONTACT
País | Country: ITALIA | ITALY

Estatus | Status: ACTIVO
Fecha de registro | Register date: 2013-04-03

WWW youtube facebook mp3


LINE-UP
Luana Caraffa - Vocals
Dani Macchi - Guitar
Valentina De Iullis - Piano
Tam Scacciati - Bass
Mattia Mari - Drums
DISCOGRAFÍA | DISCOGRAPHY
2006 - Metaphysical Attraction
2009 - The Noir Album
2011 - And There Was Light
2013 - Shooting Dice With God
BIOGRAFÍA | BIOGRAPHY

BIOGRAPHY 2013


"They've created a mysterious, romantic, erotic world"- Rolling Stone.


How many artists can claim to have single-handedly originated a musical genre?

Italian quintet Belladonna are amongst that rare breed of bands whose absolute uniqueness has enraptured and inspired fans, followers and imitators all over the world.

Rock Noir, that Belladonna extraordinary brand of emotionally-charged rock'n'roll melodrama utterly seduced hordes of Music lovers tired of being force-fed today's computer-driven, fake-angst-ridden pseudo-rock down their ears.



METAPHYSICAL ATTRACTION

Belladonna's legendary self-produced debut "Metaphysical Attraction" resounded so deeply in rock fans' collective consciousness that it not only turned the band overnight into one of the most loved unsigned bands on MySpace, but it even bestowed upon them the honor of 2 Grammy Awards 2008 ballot nominations, unprecedented for a DIY band.

Over 1.000.000 views on MySpace, magazines like Rolling Stone and GQ hailing them as the "next big thing", shows with Dita Von Teese at Erotica 07 in London, gigs with Scars On Broadway and Siouxsie & the Banshees, performances at the Dubai International Film Festival - but Belladonna remained unfazed.

THE NOIR ALBUM

Personally invited by alt-rock producer supreme Sylvia Massy (Tool, System of a Down) to record their sophomore album in her all-analog studio in California, USA, in a few incendiary sessions Belladonna committed to tape the 11 Luana/Dani-penned songs of "The Noir Album". The record came out in March 2009, entering the Italian iTunes chart and getting rave reviews all over the world.



ON TOUR

Belladonna premiered "The Noir Album" live in the USA at L.A.'s Key Club and as official representatives of Italy at Belladonna in March 2009.
Back in Italy, the band played as Special Guests to Nine Inch Nails, The Mars Volta, Staind and Korn, on the strenght of the first single off "The Noir Album" – the relentless "Till Death Do Us Part" – being Single Of The Week on Italy's biggest rock radio, Virgin Radio.

In October they went back to L.A. for a showcase at the Fonda Theater, and then to the UK - where Iron Maiden's Bruce Dickinson had championed the band by broadcasting "Till Death Do Us Part" on his BBC radio show - for a sold-out headline show at The Garage in London.

2010 saw Belladonna hit the road again, with a European tour in March and a UK club tour in April and in July.



COLLABORATION WITH MICHAEL NYMAN

In December 2010 Belladonna shook the indie rock music world by releasing "Let There Be Light", a single written in collaboration with legendary English composer Michael Nyman and based on his "The Heart Asks Pleasure First" from the soundtrack of the Oscar-winning movie "The Piano". Michael Nyman himself plays piano on the track. A truly exceptional event, especially in the light of Belladonna still being a totally self-produced band.



AND THERE WAS LIGHT

In May 2011 Belladonna released their much-awaited third album, recorded in November in L.A., with the help of Grammy-nominated producer Alex Elena and of Metallica's "The Black Album" engineer Mike Tacci and titled "And There Was Light". The album immediately entered the Italian iTunes Top 100 and garnered ecstatic reviews from all over the world.

And while the album hit the shops, Belladonna found themselves mentioned (alongside Nine Inch Nails and Marilyn Manson) in Motley Crue's frontman Vince Neil's autobiography "Tattoos and Tequila" as one of the acts that have been influenced by the mighty Crue in recent years.



ON TOUR ALL OVER EUROPE AND NEW ALBUM

Belladonna spend most of 2012 on tour all over Europe (Germany, Austria, United Kingdom, Italy, Luxembourg, Blegium, Netherlands, Czech Republic) and writing new songs and - in 2 guerrila sessions in a Rome studio in June and September - recording them for their fourth album, to be released in early 2013.

BANDAS | BANDS
VIDEO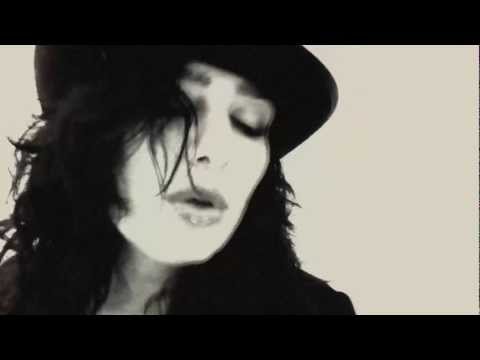 ---
BELLADONNA - Sweet Child O' Mine (2013, Cover)
Noir version of the Guns N' Roses classic love song released as a single of BELLADONA.
Más videos de BELLADONNA
More videos of BELLADONNA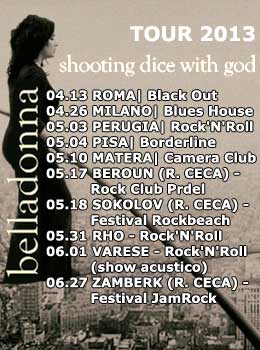 NOTICIAS | NEWS