IXPAPALOTL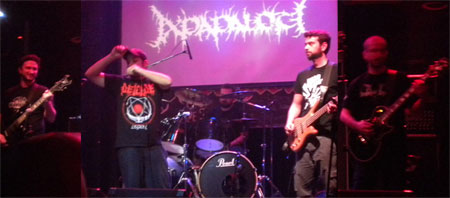 CONTACTO | CONTACT
País | Country: GRECIA | GREECE

Estatus | Status: ACTIVO
Fecha de registro | Register date: 2013-03-15

WWW facebook


LINE-UP
Nol: Drums
Lexx:Bass
Bugass: Guitar
NuclearK:Guitar
KJ:Vox
DISCOGRAFÍA | DISCOGRAPHY
2013 - Corpse Republic (EP)
2009 - That of the Swamp (EP)
BIOGRAFÍA | BIOGRAPHY

Ixpapalotl play Mortal Kombat and Death Metal.

Genre:Death Metal / Grindcore


BIOGRAPHY 2013

The band was founded by Trollg and Kj in 2009. It consists of close friends who have also been playing music together in the past. On June 2009 we released a 3 track EP called "That of the Swamp" that was met very well by audience and critics alike. Since then , we have been composing material for our next release and performing on local live gigs.




BANDAS | BANDS
PROMO ON-LINE
IXPAPALOTL - Corpse Republic (EP, 2013)
01. Ghost of Hunger
02. Ritual Freak
03. Concrete Suffering
04. Warped in Riot
05. Corpse Republic
06. Chaotic Intentions
07. Scorn the Law
Más discos de IXPAPALOTL
More albums of IXPAPALOTL
NOTICIAS | NEWS