BLEED THE FREAKS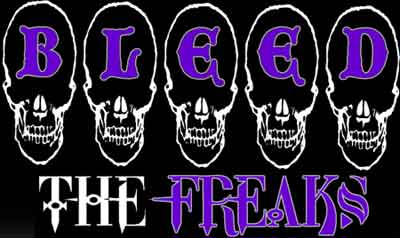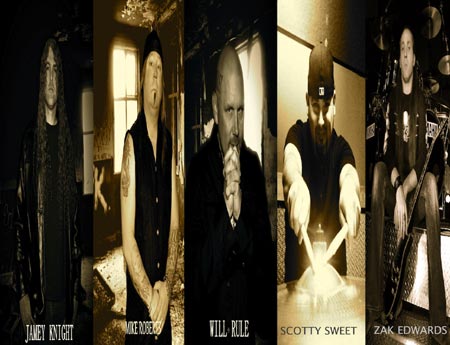 CONTACTO | CONTACT
País | Country: ESTADOS UNIDOS | UNITED STATES

Estatus | Status: ACTIVO
Fecha de registro | Register date: 2013-03-15

WWW mp3


LINE-UP
WILL RULE (Vocals)
JAMEY KNIGHT (Bass)
KENNY URREA (Drums)
MIKE ROBERTS (Guitar)
ZAK EDWARDZ (Guitar)
DISCOGRAFÍA | DISCOGRAPHY
2012 - All Is Lost
BIOGRAFÍA | BIOGRAPHY


BIOGRAPHY 2013


The idea of Bleed The Freaks came into reality when guitarist and founder Mike Roberts crossed paths with vocalist Will Rule in the late 2000's. Roberts had been a mainstay in the Bay Area heavy metal scene since the genre was invented, playing in bands and chasing after the dream of a major label contract. He watched from the front lines as his childhood friend Cliff Burton went on to become an international icon with Metallica, followed shortly after by local bassist Les Claypool hitting the mainstream with Primus. Mike pushed on and formed the band Misery, only to slug it out in the club circuit without notoriety. He shopped the band to all the labels but they never called back. When the phone finally did ring it was another set of childhood friends calling. Jim Martin and Mike Bordin's band Faith No More had just exploded and they were calling to celebrate. It was 1989 and metal was huge, but Mike Roberts was on the sidelines. It seemed as if every musician in the bay was breaking big except him. A serious bout with anxiety followed…


For singer Will Rule, the road to heavy metal glory began in the mid 1980's in the slums of Buffalo, New York. It was there that the young vocalist fronted Tyrant Sin, an extreme metal band that featured future Cannibal Corpse members Paul Mazurkiewicz and Bob Rusay. This project proved to be short lived, as Rule wanted to sing in a more classic metal style while his band mates strived to attain death metal glory. Paul and Bob immediately formed Cannibal Corpse and gained instant acclaim. Feeling left out and fueled by the success of his previous band mates, Rule then relocated to Florida and began working with producer Scott Burns on a project with members of the band Neurotica, but it was short lived. At that point Will relocated again, this time to sunny California, to jam with a new band called War Prayer. Members of Bleed The Freaks heard a War Prayer demo and knew they had found the perfect front man and voice for their own band. They convinced him to join.


The rejuvenated new line-up of Bleed The Freaks – completed by drummer Scotty Sweet, bassist Jamey Knight (also of the band Misery), and guitarist Zak Edwardz – immediately went to work writing and refining their songs until they were flawless and ready to unleash on the world. Renowned producer Juan Urteaga (Testament, Machine Head, Heathen, Vicious Rumors) recognized the band's potential, and offered to produce their debut record. The result is All Is Lost, an eight song slab of aggression seasoned with memorable guitar hooks and vocal melodies.


The band is currently shopping to labels and playing shows in support of the record. One can only hope that the band will finally get their shot at the big leagues.
BANDAS | BANDS
NOTICIAS | NEWS