OMISSION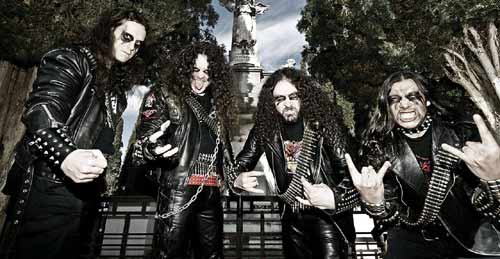 LINE-UP
Miguel "Patillas" Vox and Guitars
Javi "Astur" Lead Guitars
Jaime "Surt" Bass
David "Davity" Drums
DISCOGRAFÍA | DISCOGRAPHY
2005 - Day Of Your Death Arrives... (demo)
2006 - Thrash Metal Revenge (compilation)
2007 - Yells That Destroys (demo)
2008 - I Pounding Metal Fest (split DVD)
2008 - V.P.A. (demo)
2008 - Satanic Speed Thrash Metal (compilation)
2009 - An Unholy Thrash Metal Night (split)
2009 - Thrash Metal Is Violence (full lenght album)
2010 - Angelfuck (compilation)
2011 - Merciless Jaws From Hell (full lenght album)
2011 - Unholy Thrashing Savage (split)
2012 - Pioneers Of The Storm (full lenght album)

BIOGRAFÍA | BIOGRAPHY

BIOGRAPHY 2013


Omission was founded in Madrid (Spain) by Miguel A. Hernanz ("Patillas") and Iván in 2000. The first demo, "Day of our Death Arrives" (2005) was recorded with the help of some friends. The drums were programmed by David Ballester (RIP), who also recorded the guitar soli, Dani ex–Xarathorn) did backing vocals and all the rest was recorded by Patillas. Iván (Iux Provocationix) finally mixed the demo, and at this time Iván Manzano had already left the band.


The next demo, "Yells That Destroy" (2007), was recorded with a "real" line-up - consisting of Julito (ex-Muro) on bass, Edu (Sabatan) on drums and Marco on solo guitar, with Patillas taking over vocal duties and rhythm guitar. Omission played several festivals with this line-up, before including new drummer Juanjo, who participated in the recording of the third demo, "V.P.A." (2008). After that, Omission where included on the Portuguese Sampler "IRMANDADE METALICA VOL.I" and on the Spanish mega-compilation "SPAIN KILLS" (edited by Xtreem Music), which led to them getting more and more popular in their home country and beyond.


Lots of live shows followed; in Madrid they played with German fellow thrashers OLD, which was recorded end released as a split Omission/ OLD live vinyl. The second and third demo were released on tape by WAR Productions under the title "Angelfuck", and finally, in 2009, they released their first full-length album on CD, "Thrash Metal Is Violence". The first edition was self-released, but after its enormous success, Xtreem Music released a second edition with two live bonus tracks in 2010, and there also was a very limited collector's edition on vlnyl, edited with the help of Metal Crusaders und Down With The Most High.


In 2010, lots of things happened: drummer Juanjo and bass player Julito left the band, and were replaced by James Surt on bass and Daviti on drums. Omission entered the studio to record the second album - the result was "Merciless Jaws from Hell", which was released in January 2011 on Xtreem Music. Now Omission are on tour destroying Spain and everything else with their Satanispseed Thrash Metal!


BANDAS | BANDS
VIDEO
PROMO ON-LINE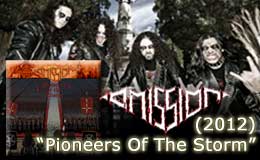 NOTICIAS | NEWS