DACAST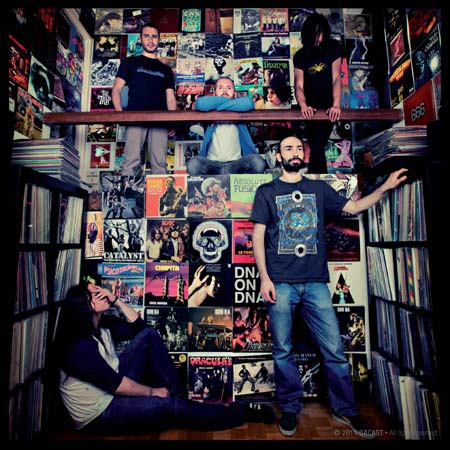 CONTACTO | CONTACT
País | Country: FRANCIA | FRANCE

Estatus | Status: ACTIVO
Fecha de registro | Register date: 2013-01-28

dacastband@gmail.com facebook mp3


LINE-UP
Thibaut
Sylvain
Abdel
Cédric
Adrien
DISCOGRAFÍA | DISCOGRAPHY
Dédale (2012 LP)
Smooth as a riot (2006)
Undertown experiment (2003,Demo)
BIOGRAFÍA | BIOGRAPHY

BIOGRAPHY 2012


2002 - Formation of the band as a quartet.
2003 - Release of the demo the undertown experiment.
2006 - Release of the selfproduced EP smooth as a riot.
2010 - Live recording of the album Dédale in the Sainte-Marthe studio by Francis Aste.
2011 - The band becomes a quintet.
2012 - Release of the album Dédale at Gheea Musi.



Since 2002, the parisian outfit, DACAST, has meted out a hardline, Chaotic, and fullthroated brand of music that brings together aspects of jazz, progressive and World music.


While the vocals and instrumentals ramble through such influences as the Dillinger escape plan, king crimson, Miles Davis, and Mike Patton, emphatic and melodramatic notes round out an impressionistic and passionate sound.


So far, the band (which features members of Insain, Whispering Tears, Good Morning Bleeding City And Arun Tazieff, along with former members of Hellbats, hangman's chair and Sickbag) have shared the stage with many bands from the parisian underground scene, most recently Klone.


This year, the band released the culmination of nearly 2 years of work, Dédale, a 35 minutes album Split into two sides, in which written and improvised moments collide into one another. Dédale was recorded live and then mixed by Francis Caste at the Sainte-Marthe Studio.