MECHANICAL GOD CREATION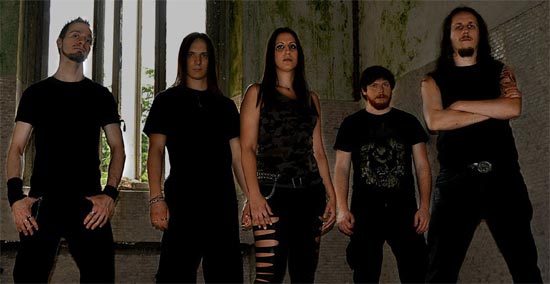 CONTACTO | CONTACT
País | Country: ITALIA | ITALY

Estatus | Status: ACTIVO
Fecha de registro | Register date: 2012-11-23
Última actualización | Last update: =2013-08-20
WWW myspace youtube facebook twitter


LINE-UP
Lucy - Vocals
Salvatore Duca - Bass
Mirko Frontini - Guitars
Francesco Calligaris - Guitars
Carlo Molinara - Drums.

DISCOGRAFÍA | DISCOGRAPHY
2010 - CELL XIII
2007 - And The Battle Becomes War
BIOGRAFÍA | BIOGRAPHY

TECHNICAL DEATH METAL


BIOGRAPHY 2012


Mechanical God Creation born in October 2006.


Initial contacts are created between Lucy, former singer of the band Art of Mutilation consists of two members of Hecate Enthroned, and Simo (guitar / vocals) through a forum, both in looking for a great metal band. Once granted, the two pledged then in the search for musicians to complete the line-up. Simo contacts Jambra as drummer, then Runza joined the band as second guitarist, completing the line-up with Andrea on the bass guitar. After an initial period in which are written the first songs the group enters into recording studio in March 2007 to Larsen Forge Studios in Milan for the registration of their first demo entitled "... And the Battle becomes War" featuring 3 tracks and an instrumental intro. The demo released in May 2007 and was accepted and reviewed very positive on magazine and webzines in italy and all over europe. In June 2007, the band is selected and voted on by playing on the 2nd stage of Gods of Metal, where he was able to lead to a vast its proposal music, playing with sacred monsters like Ozzy Osbourne, Korn and Megadeth.


In 2008, the band opened with its first experience of playing live abroad like Austria and the Metalcamp Festival in Tolmin in Slovenia having the opportunity to play with groups like Meshuggah,Iced Earth,Behemoth... In July 2008 the band began to plan the recording of the first full length album and simultaneously signed a management contract with Carlo Bellotti. The work begins next November at the West Link Studios in Pisa where band recorded the tracks of bass and drums, then moving to Como in alphaomega studios to complete the recordings and mixing of guitars and voices helped by an expert Alex "Mudhead" Azzali.The mastering will be done at Finnvox Studio in Finland. ... Cell XII has its ultimate form in autumn 2009 ...nine tracks of pure aggression.During this mounths, Jambra,Runza and Simo decided to leave the project and Mgc was busy to search new members.


After few time Ale,Manuel,and Davide joined the band and MGC are ready to play live more combative then ever , then together we recorder our second album Artifact of Annihilation at Math Lab and AlphaOmega Studio, mixed and mastering at Garage Studio by Chris Donaldson(Criptopsy). The album will be out in Autumn 2012. Unfortunatelly with Davide and Manuel we did not have the same goals and the same enthusiasm as the rest of the band so we decided that the best thing was to continue without them and look for someone who was really suitable for this band.We tried not to be discouraged about this thing and thanks to our commitment and desire to play we finally found two musicians really smart and we are proud to present them as new Mechanical members, Michy on drums and Salva as second guitarist.Now we are rehearsing a lot and we are nearly ready to play live together.

BANDAS | BANDS
VIDEO
PROMO ON-LINE
NOTICIAS | NEWS