SINHERESY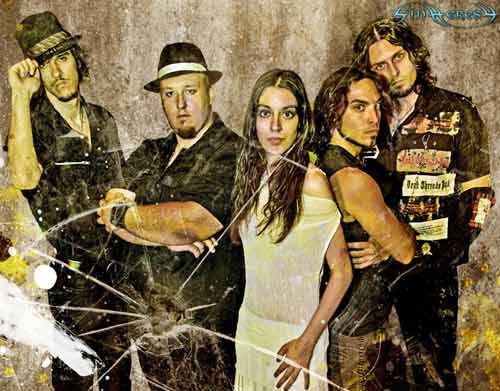 CONTACTO | CONTACT
País | Country: ITALIA | ITALY

Estatus | Status: ACTIVO
Fecha de registro | Register date: 2012-11-21

info@sinheresy.com WWW facebook


LINE-UP
Cecilia Petrini (Vocals)
Stefano Sain (Vocals)
Davide Sportiello (Bass Guitar)
Lorenzo Pasutto (Guitar)
Alex Vescovi (Drums)
Daniele Girardelli (Keyboards)
DISCOGRAFÍA | DISCOGRAPHY
2011 - The Spiders and the Butterfly (EP)
BIOGRAFÍA | BIOGRAPHY

BOOKING and PROMOTION: info@sinheresy.com
a.castelli@k2music.org


BIOGRAPHY 2012

Italy based SINHERESY is a symphonic heavy metal band founded in 2009 and characterized by the use of female vocals and male clean vocals performed by Cecilia Predrini and Stefano Sain respectively. Their music is described as symphonic metal although some material can be simply considered heavy oriented.


The debut EP "The Spiders And The Butterfly", recorded at the famous Ravenna's Studio 73, is pure gothic metal release: the patterns of the genre are mixed and meshed up with symphonic, progressive and power elements too. The EP was released fall Dec 2011 by the Italian label Revalve Records and it's currently promoted in Europe by the label in common with K2Agency.


The band is working hard for the live promotion of the new release around Italy, Slovenia, Austria and it's preparing itself for the songwriting and composition of a first debut full-lenght album to come.


In Sinheresy art, poetry and gothic elements mix up in an unique blend of Melodic Metal in line with the timeless beauty of Nightwish and Whitin Temptation.

BANDAS | BANDS
VIDEO
PROMO ON-LINE
NOTICIAS | NEWS