THE WAY OF PURITY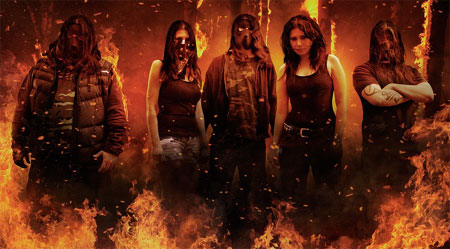 CONTACTO | CONTACT
País | Country: N/A

Estatus | Status: ACTIVO
Fecha de registro | Register date: 2012-11-06
Última actualización | Last update: =2013-04-16
WWW facebook


DISCOGRAFÍA | DISCOGRAPHY
2012 - Equate
2012 - Biteback (EP)
2011 - Crosscore
BIOGRAFÍA | BIOGRAPHY

BIOGRAPHY 2012


Sun, Fire, Wind, Water, Earth, Demons, Nature, Lunar Phases, Souls of the First Humans, and Diseases will unite to rebalance the world with a final goal: Animals and Nature will rule the planet again with their integrity.

The human race will be brutally exterminated.

The Anthropocentric lie has to come to an end and humans have to see the terrifying and piercing effigy of horror that they have inflicted on animals for ages.

Humanity is ill, infected with the worst disease that is called Speciesism.




Everything started in March 2009 when Animal and Earth liberation soldiers The Way of Purity otherwise known as TWOP literally coming from nowhere, posted their first song on MySpace. With their innovative concept surrounded by mystery and strange facts (the suicide of the first singer "xDeadGirlx" or the rumours on the band members being part of the animal liberation front) TWOP immediately gained the attention of the masses…in a good and bad way, due to the fact that TWOP had been accused of being a marketing machine and a "fake" project. Later, with facts, TWOP demonstrated that the accusing were wrong.


The debut album "Crosscore" was co-produced by Christian Donaldson of CRYPTOPSY/THE AGONIST and before the release TWOP left for a 55 date European tour with Romanian transcendental black metal masters NEGURA BUNGET and then appeared at some important festivals such as DeathFest in Leeds UK, Eternal Damnation, Exit Festival, Ost Mountain Fest and many more. Straight after the album release TWOP toured Europe again, this time with the mighty GORGOROTH and BELPHEGOR. With a circulation of over 2500 copies, the album "Crosscore" was then licensed by CR Japan for the Japanese market.


The Promotional action with Florian Fink and Adam Sagir had been incredibly effective and the result is that the band got attention from big magazines like Legacy, Metal Hammer, Close Up, Nordic Vision, Terrorizer, Kerrang!, Sweden Rock, Eat in Japan, Scanbike and many more (with 1-2-3 and 4 page interviews). "Crosscore" got more than 200 controversial reviews, pure hate and pure love were shown by journalists and this was the biggest sign of pride for such a controversial project. The hype gained gave the band the opportunity to sign a deal with Go Down Believing for the booking of concerts in Europe and a worldwide publishing deal with Warner / Chappell Music. Fetish queen and film director Susy Medusa Gottardi (from Private) then decided to cooperate with the band and produced a 30 minute shocking movie based on TWOP's first singer's suicide.


On February the 26th 2012 a new EP titled "Biteback" was released worldwide by Wormholedeath/Aural Music and featured 2 Exclusive versions of "Eternal Damnation to René Descartes" and "Keep dreaming" plus a bonus track.


On 5th November 2012 TWOP will release their 2nd album 'Equate' Worldwide from Wormholedeath/ Aural Music. The album which was recorded at Mathlab Studios, Italy was again mixed and mastered by Christian Donaldson and is highly anticipated worldwide.


BANDAS | BANDS
PROMO ON-LINE
THE WAY OF PURITY - Equate (2012)
01. Artwork Of Nature
02. Death Abound Everywhere
03. Eleven
04. Eternal Damnation To René Descartes
05. Keep Dreaming
06. For All Who Thrive Unheard
07. The Mighty Fall
08. The Last Darkest Night
09. A Time To Be So Small
10. Lijty Crjsty
Más discos de THE WAY OF PURITY
More albums of THE WAY OF PURITY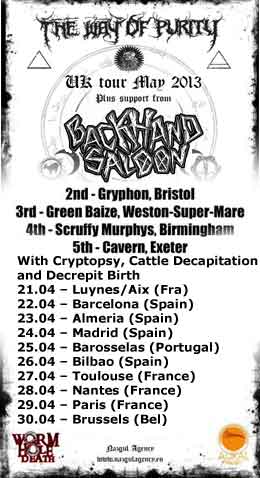 NOTICIAS | NEWS