DECLAMATORY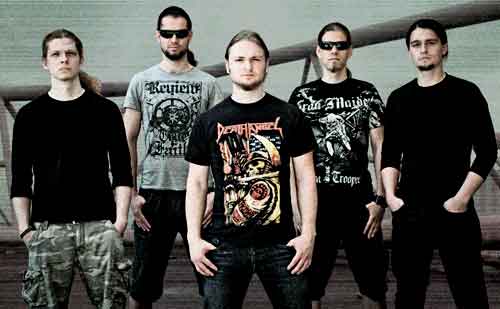 LINE-UP
Toni Watzinger - Guitar
Robert Scholich - Vocals
Gregor Sommer - Bass
Eric Klieme- Drums
Sebastian Fischer - Guitar
DISCOGRAFÍA | DISCOGRAPHY
Human Remains (10/2012)
Loosing Patience with the world (2007)
Nevolution (2004)
BIOGRAFÍA | BIOGRAPHY

BIOGRAPHY 2012

Promotion: promotion@metalmessage.de
Booking: info@declamatory.de


The Berlin (Ger) based Melodic Thrash Metal band "Declamatory" was founded in 2000 by Toni Watzinger (guitar), Robert Scholich (vocals, guitar), Marcus Kuscherka (bass) and Fabian Weber (drums) during a school project. None of the four guys had professional knowledge of their instruments at all but they had one thing in common: the will and the determination to play some kick-ass Metal!


After releasing their first serious and well-received and reviewed demo "Nevolution" in 2004, Declamatory won three band contests in a row in 2005: the VS Music contest, Rockt'On Band Contest and the Berlin Summer Battle. But still, despite all the success, Declamatory would not be blessed with the fame and glory they surely deserved. While other bands around them in a similar situation failed and broke up, Declamatory never even thought of quitting. They just decided to get better and continued to live their dream in the Berlin underground scene.


In 2006, Peter left the band and handed over the Bass to Gregor Sommer, who enriched the band's visual and musical performance alot. In 2010, Declamatory decided to get the ball rolling again: Robert passed the guitar to someone who is actually capable of playing it: Sebastian Fischer, ex-member of Dethless. Fabian's powers were more and more absorbed by his studies, so the band decided it would be in best interest for everybody, if he left to focus on his studies. Eric Klieme, also ex-member of Dethless, took over his job and replaces him well.


Declamatory's debut album "Human Remains" (released 2012) marks a big milestone in the band's evolution. With a new concept around the post-apocalyptic war between the "Raiders" and the "Crystal Gods" fought in the world after the collapse of the industrialized civilization, "Human Remains" is the first in a series of concept albums to be released in the future.


"Human Remains" also shows off the great diversity and maturity that Toni Watzinger's song writing has evolved to over the last ten years.

BANDAS | BANDS
VIDEO
PROMO ON-LINE
NOTICIAS | NEWS