THE RECOVERY!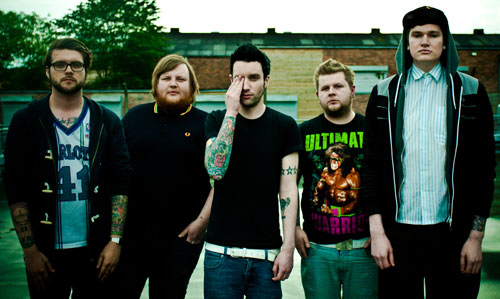 LINE-UP
Andy - Vocals
Beanzy - Guitars
Jawn - Guitars
Sean - Bass
Stu - Drums
BIOGRAFÍA | BIOGRAPHY

BIOGRAPHY 2012


The Recovery! are one of the newest bands to enter the U.K music industry and their based in Glasgow/Scotland which has been notorious for churning out great artists/bands for decades.


This quintet offer balls to the wall rock, their music has been described as sounding like early CancerBats meeting Every Time I Die inviting Refused for a threesome.


Ally McCrae(BBC Radio 1) recently gave the band a spin and a live session on his U.K Introducing show and describes the band as "A big, big slab of rock, some serious riffs from Glasgow. Its brutal, the sort of thing Danny P Carter (BBC Radio 1 Rock Show) has for breakfast".


The Recovery! came about by chance when two of the members were at a low ebb in their lives and decided to call upon some mates from an old Glasgow punk band called "Muff" who had split up and were themselves looking to start something fresh.


The Recovery! then spent a few months in the studio developing their sound and drawing influences from bands such as the Cancer Bats, Thrice, Every Time I die, Metallica and Propagandhi.


When you listen to The Recovery! you will hear their unique sound and the lyrics will connect with people because this is a singer that has something to tell the world and that something is what a lot of real people will have experienced no matter what part of the world you come from.


With choruses as catchy as the common cold this band are going from strength to strength, gaining great support from key radio stations and music press as well as developing a very fast fan base and playing some great gigs especially supporting one of their main influences the Cancer Bats in Glasgow which is part of the Slam Dunk Festival Scotland.


As of June 2012 this band will have only played live as The Recovery! for 1 year and released an E.P (This Ones For The Lovers) and a single (Vulture Club) therefore the support they are gaining rapidly is testament to their dedication and love for writing great songs.


There is a new E.P which is being released on the 5th November 2012 therefore to keep up dated please join their Facebook page, follow them on Twitter, watch some video's on You Tube and download some free music from their Bandcamp page and if you love what you see and hear, welcome to the Family!!

BANDAS | BANDS
NOTICIAS | NEWS