PARAU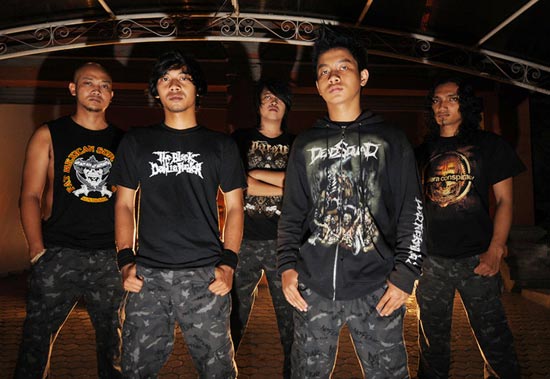 CONTACTO | CONTACT
País | Country: INDONESIA

Estatus | Status: ACTIVO
Fecha de registro | Register date: 2011-08-27
Última actualización | Last update: =2011-12-13
parau_666@yahoo.com WWW myspace twitter mp3


LINE-UP
Ghigox - Vockill
Krisna - Guitar
Once - Bass
Gusde Atenx - Guitar
Kharisma - Drum
DISCOGRAFÍA | DISCOGRAPHY
2010 - Somatoform (Armstretch Records /Bandung )
2006 - Surga Bencana (Electro Hell Records / Bali )

BIOGRAFÍA | BIOGRAPHY

PARAU MANAGEMENT BOOKING :
Contact Persons :
Jony Kobra +62856 9790 1764 Jl. P. Nusa Kambangan No. 202A Simpang 6, Denpasar – Bali 80113
E-mail: parau.management@gmail.com


PARAU FOR INTERVIEW/ FRIENDSHIP : Ghigox PH : +6281916677788
Email : parau_666@yahoo.com
www.myspace.com/parau
Twitter : @parau666
www.facebook.com/parau


PARAU OFFICIAL MERCHANDISE : E-mail : csmerchcons@yahoo.com
www.merchcons.com
www.facebook.com/merchcons



BIOGRAPHY 2011 - ENGLISH VERSION

One of the best bands from Bali, mixing melodic metalcore beats with elements of death metal. Good sound quality and interesting compositions has made this band become the pride of the Bali music scene.

When first formed in September 2002, Parau was heavily influenced by hardcore music. and in 2006 they managed to release their debut album titled "Surga Bencana". Along the way, Parau was also involved in several compilation albums in both Bali and Indonesia wide.

After undergoing several member changes, a stronger, more mature Parau appeared. A breakthrough was made by extending their element and including an element of metal in their music. Each individual member's musical taste also influenced the band's direction which consequently produced music with heavy distortion and a stomping beat that gives the listener an intense adrenaline rush. Amongst the personal playlists of the band members were bands like Ark Angel, Pantera, Metallica, The Black Dahlia Murder, Lamb of God, Necrophagist and The Faceless. These bands were so influential that eventually Parau's music evolved to pure metal.

The recipe for Parau's music is quite specific: the lyrics are sensitive and intelligent, commenting on horizontal relationships among humans, humans with nature, as well as vertically between man and our Creator. Sensitivity to the reality of the situation and the wheels of human life are the main ingredients for Parau in the creation of their songs, which are basically a response to concerns about our way of life.

The second album "Somatoform" was released in 2010 by Armstretch Records. With 11 social-themed songs, the album was done with a very serious and mature attitude, both from the arrangement, composition, and quality of sound, to the album cover artwork. This long awaited album has been received well, with a great response from fans and the public.




BIO 2011 - INDONESIAN VERSION

Salah satu band terbaik asal Bali, meramu beat melodic ala metalcore dipadu dengan unsur death metal. Kualitas sound yang baik dengan komposisi menarik membuat band ini menjadi salah satu band kebanggaan di scene bali.

Pada awal kiprahnya Parau yang terbentuk pada September 2002 ini banyak dipengaruhi oleh musik Hardcore. Seiring waktu, melalui jam terbang manggung yang makin padat, pelan tapi pasti unsur Metal mulai merasuki orbit musik Parau. Hingga akhirnya pada tahun 2006 Parau berhasil merilis album perdana bertajuk "Surga Bencana". Dalam perjalanannya, Parau juga beberapa kali terlibat dalam album kompilasi baik itu di Bali maupun Nasional.

Sempat mengalami beberapa kali pergantian personil, justru membuat Parau makin kuat dan matang dalam berkarya. Terobosan pun dilakukan dengan memperluas unsur - unsur metal untuk memperkaya musik Parau. Selain itu musik Parau juga dikemas dengan taste masing - masing personil sehingga menghasilkan musik dengan distorsi berat dan beat menghentak yang dapat membangkitkan adrenalin yang enak untuk didengar dan dinikmati. Eksistensi band - band seperti Ark Angel, Pantera, Metallica, Black Dahlia Murder, Lamb of God, Necrophagist hingga Faceless, sangat berpengaruh pada playlist pribadi masing-masing personel sampai akhirnya Parau benar - benar bertransformasi menjadi band Metal.

Resep Metal racikan Parau bisa dikategorikan cukup spesifik : penulisan lirik yang peka dan cerdas, berpondasi pada hubungan horizontal antar sesama manusia, manusia dengan alam ; serta vertikal antara manusia dengan Sang Pencipta. Peka terhadap realita situasi dan kondisi roda kehidupan manusia di dunia merupakan bahan utama bagi Parau dalam penciptaan lagu sebagai respon kepedulian terhadap jalannya kehidupan.

Album ke dua "Somatoform" pun dirilis pada tahun 2010 oleh Armstretch Records. Dengan 11 materi lagu bertema sosial, album ini dikerjakan dengan sangat serius dan matang, baik dari aransemen, komposisi lagu, kualitas sound hingga artwork cover album yang terkonsep. Album yang sudah cukup lama dinantikan ini pun mendapat respon yang sangat baik oleh publik dan para penggemar.


BANDAS | BANDS
VIDEO
PROMO ON-LINE
NOTICIAS | NEWS