RAPTURE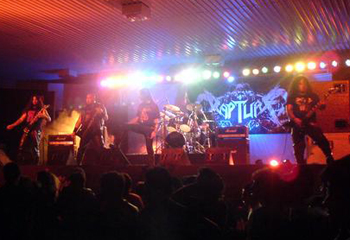 LINE-UP
Miguel - Guitar
Carlos - Vocal
Led - Drums
Cesar - Bass guitar
DISCOGRAFÍA | DISCOGRAPHY
Deathcult
Living Inside of Death [2006]
Sinister Creation [2008]
BIOGRAFÍA | BIOGRAPHY

Official sites:
www.myspace.com/rapture9mmcom
www.rapturemexico.com
www.alprods.net


BIOGRAPHY 2009

2005. On september Rapture was formed and record their first 3 tracks demo called "Deathcult"
with independent distribution.

2006. "Living Inside of Death" was recorded in Mexico city and edited under Ablaze Productions.
The first tour "Armed Rebellion '06" was done over the mexican territory.

2007.The tour continues and moved to Argentina. Rapture begun the work for the next album at La Nave de Osenberg in Buenos Aires, Argentina.

2008 "Sinister Creation" was launched under their new label American Line Prods in Mexico. The new label edit a remasterized version of "Living Inside of Death".

2009. A new couple tracks was recorded and new album it's on the way. The booking of the first european tour starting july will be published soon on the official site.

BANDAS | BANDS
NOTICIAS | NEWS