RAZORDOG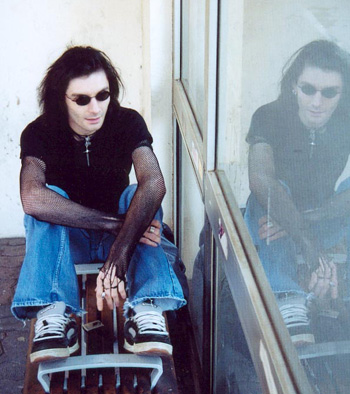 CONTACTO | CONTACT
País | Country: FRANCIA | FRANCE

Estatus | Status: ACTIVO
Fecha de registro | Register date: 2006-02-05

chris_menta@yahoo.com WWW


LINE-UP
Chris Menta (All guitars, bass, voices, keyboards, programming and samples)
DISCOGRAFÍA | DISCOGRAPHY
Lucy fairy's club
BIOGRAFÍA | BIOGRAPHY

BIOGRAPHY 2006

Chris Menta, French native and the mastermind behind the musical project "RazorDog," has a long history on the darker side of the rock spectrum. As a dedicated musician for the last 15 years he's worked with more bands than you can count on two hands and has done work as a session guitarist for many people including Rozz Williams of Christian Death fame.

On first listen, few can disagree, they're hearing something that most bands and artists never excel at: provocative music that is both listenable and experimental, beautiful and dark, a little bit somber yet warm and sonically rich. His debut album as RazorDog "Lucy Fairy's Club" has been hailed as a masterpiece by people from all over the Rock, Metal and Industrial world.

He heads several one man bands in different kinds of music, but RazorDog is the main root in Chris Menta's creations. Here you can take a look at his official website : www.chrismenta.com .This website is also the official shop where CDs are available.

This album is a concept : each song is a part of this one, the reason it contains different sounds and ambiances. But Chris Menta belongs to a kind more heavy metal/death rock, which he will make discover in his second RazorDog's album.
BANDAS | BANDS
NOTICIAS | NEWS