DREAMAKER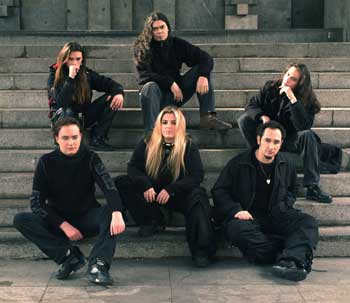 CONTACTO | CONTACT
País | Country: ESPAÑA | SPAIN

Estatus | Status: ACTIVO
Fecha de registro | Register date: 2005-06-03

webdreamaker@hotmail.com WWW


BIOGRAFÍA | BIOGRAPHY

BIOGRAPHY 2005

The band begun when three former members of a famous Spanish band called Dark Moor left it. Elisa C.Martin (vocals), Albert Maroto (guitar) and Jorge Sáez (drums) decided to create Dreamaker, a new band where they could represent all their own ideas. The band started its searching to complete the line-up and, the young argentine guitar, Matias Sosa was its first new member.

Dreamaker received some offers from bass players and finally Carlos Peña was chosen for the band.

Alter sing up with Arise Recods for two albums, in September 2003, they record their first album in Sonic Pump Studios (Helsinki) where bands as Stratovarius, Warmen or Kotipelto haver recorded too. Dreamaker's debut is called "Human Device" and was edited last 4th of March. This record has the collaborations of Ark 666 (Impaled Nazanere) and Nino Laurenne (Thunderstone), even Jorge Saéz, band's drummer, recorded some guttural voices in "Welcome to my hell". They license the cd in countries like Argentina, Mexico, Taiwan, Korea, Russia or Japan and Europe. Of their Spanish shows It´s right to emphasize their presence in cities as Barcelona, Madrid, Bilbao, Murcia, Sevilla and many importanta festivals as Viña Rock, Alcaceres Open Air, Ripollet Rock and many more. Also they were the support band of SCORPIONS in the Spanish tour.

Dreamaker did a JAPANASE TOUR in May 2004 where they were very well received by japanese audience. In Japan the band realized many interviews for specializing magazines, radios and television. The guitarists Albert and Matias recorded a didactic video that was included in the magazine YOUNG GUITAR.

The band was record the second and last album under Arise Records in M - 20 studios in Madrid, produced and mastered by BigSimon and Albert Maroto. "Enclosed" It's the title chosen for this album that will be released in March 18th.

This album is a great change for the band, showing the way that Dreamaker always has wanted, intruducing electronic elements, powerfull guitarrs and commercial vocals melodies. The influences of the band are very varied, Rammstein, In Flames, Arch Enemy, Soilwork, Evanescence... although always conserving our own style. Dreamaker have a Spanish tour closed ( 25 concerts ), some summer festivlas and many more no confirmed yet. Now they are looking for big booking agency to play many gigs out Spain and in March they will be free to look a new record company.

In this cd we mix heavy metal and melodic death metal with electronic sounds of keyboard and a wide range of vocal techniques, with aggressive and wild voices.
BANDAS | BANDS
NOTICIAS | NEWS