UNEARTHLY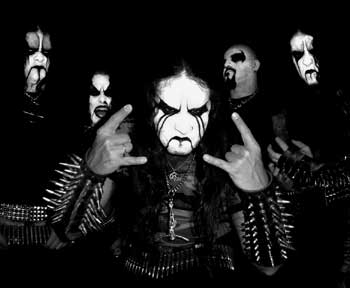 CONTACTO | CONTACT
País | Country: BRASIL | BRAZIL

Estatus | Status: ACTIVO
Fecha de registro | Register date: 2005-03-31

unearthlyhorde@yahoo.com.br


LINE-UP
Agares (vocals)
Thyrr (guitar)
A. Amazarak (guitar)
M. Mictian (bass)
Leghor Supay (drums)
BIOGRAFÍA | BIOGRAPHY

BIOGRAPHY 2005

Unearthly was formed at the end of 1998 by M. Mictian (bass), Lord Thoth (vocals and guitar) and L. Simões (drums). After some rehearsals L. Simões left the band, so months later Inferiis enters the band as the new drummer. After that came Kaften (guitar) and Hysrucs Midgard (keyboards), so the line-up is complete and the rehearsals continue. At the middle of the year 2000 the CD-demo "Blessed Are The Destroyers Of False Hope..." containing 2 songs, and it was very well received by the public and it served for Unearthly to play in several concerts in Brazil.

Right after that release, Inferiis left the band and for his place the band recruited Leghor Supay and in 2001 Unearthly releases the CD-demo "Living Under The Sign Of Blasphemy" containing 3 songs. The response was immediate; all specialized magazines, fanzines and general audience consider this to be a grreat work.

Several gigs are done and with this performance some record labels get interested in the band, and so Unearthly signs with Encore Records, but before the recording of the first album starts, KAften is kicked out of the band.

In July, 2002, the long awaited full-length "Infernum - Prelude To A New Reign" is released by Encore Records. It was also released in North America by Crash Music (USA). Once again, the critics were unanimous according to a release by Unearthly.

"Infernum - Prelude To A New Reign" is another great release by Unearthly, killer!

A mini-tour is done to spread the work of the band. In that time Hysrucs Midgard (keyboards) is replaced by Hostis Daemonium and the guitar player Thyrr is also recruited by the band to finnish the tour.

In october, 2003, the band enters the studio with producer Fabiano Penna (ex-Rebaelliun) for the recording of their second CD "Black Metal Commando", wich turned out to be a faster, stronger and more aggressive record. It was released in december of 2003 and receives the best of reviews possible and an amazing acceptance by the audience. It was considered a great record.

After the release of that CD, Lord Thoth (vocalist, guitar player and co-founder of the band) leaves Unearthly for not being able to conciliate their personal life with the band's activities. And the keyboards player Hostis Daemonium is kicked out of the band for lack of dedication and lack of profissionalism.
BANDAS | BANDS
NOTICIAS | NEWS