CLAIR DE LUNE MORTE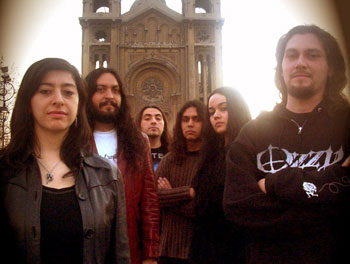 CONTACTO | CONTACT
País | Country: CHILE

Estatus | Status: ACTIVO
Fecha de registro | Register date: 2003-12-16
Última actualización | Last update: =2005-11-10
clairdelunemorte@hotmail.com WWW


LINE-UP
Ángela Cifuentes/Vocals
César Arriagada/Guitar
Christian Creixell/Guitar
Sebastián Silva/Bass
Sergio Evans/Drums
Katia Valdés/Keyboards
BIOGRAFÍA | BIOGRAPHY

BIOGRAFIA 2005

Clair De Lune Morte was founded in the beginning of 2002, by the young operatic singer Ángela Cifuentes and drummer Sergio Evans, who created the first chilean doom metal band -Mischievous Augury- in early nineties.

In a brief time they reach the underground knowledge with several presentations in important cities across the country, with bands like Poema Arcanus and the brazilian Seven Angels.

Their first Ep, Bleeds Darkest One, shows their capability to mix the classic sound of doom metal with fresh arrangements and the ethereal female vocals.
BANDAS | BANDS
NOTICIAS | NEWS