ELEPHANTUM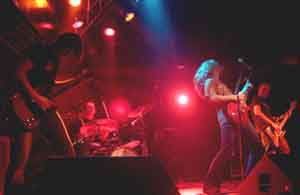 CONTACTO | CONTACT
País | Country: HOLANDA | THE NETHERLANDS

Estatus | Status: ACTIVO
Fecha de registro | Register date: 2003-12-10

info@elephantum.nl WWW


LINE-UP
Matthijs Herder – Vocals, guitar
Michiel Ferweda – Guitar
Han Schilder – Bass
Robert Koole – Drums
DISCOGRAFÍA | DISCOGRAPHY
2001 – Transhuman Entity (self-released)
2003 – Sedimentation EP (Freebird Records)
BIOGRAFÍA | BIOGRAPHY

BIOGRAPHY 2003

ELEPHANTUM from Holland, started in 1998 as a side project of COSMIC INSECT. That band moved gradually from groovy doom tracks to a more ambient jazz based thing (still heavy, groovy and guitar based). But when COSMIC INSECT went to splitsville, it was promoted to the main thing, under the name of SAND... For their first demo "Transhuman Entity" (SAND, january 2001) they recruited Niels Keyzer for bass Marc Fien for drums. Feedback on this demo was great:

The band was hitting the stage frequently to promote the EP. They played allot with local friends Astrosoniq, NUC, Cereal and some touring bands like Dozer, Los Natas, Wall of Sleep among others. Slowly Elephantum's name is growing in the scene and a great live-reputation is being build.

Elephantum anno 2004 is making a smooth flowing melting pot combining dark psychedelia, heavy pounding stoner/riffrock, subtle retro progrock and emotional singer/songwriter with a perfect balance between the four musicians. Elephantum is finally ready to creep out of their cocoon.
BANDAS | BANDS
NOTICIAS | NEWS