INFINITUM OBSCURE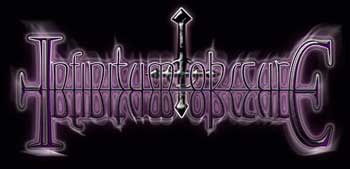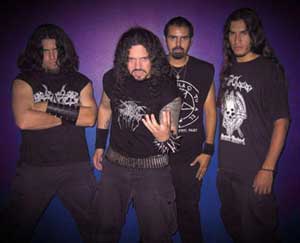 CONTACTO | CONTACT
País | Country: MÉXICO

Estatus | Status: ACTIVO
Fecha de registro | Register date: 2003-10-17
Última actualización | Last update: =2003-10-17
rotoplasmetalstorm@yahoo.com WWW


LINE-UP
Noel Bello - guitar
Roberto Lizarraga - lead guitar/ vocals
Joel Marquez - drums
Carlos Escobar - bass guitar
DISCOGRAFÍA | DISCOGRAPHY
INFINITUM OBSCURE split Cd with Chicago's ANCIENT GODS
BIOGRAFÍA | BIOGRAPHY

BIOGRAPHY 2003

Rising from darkness and spawned by pain and suffering INFINITUM OBSCURE hail from the North-west region of Mexico (Tijuana, Mex) with the objective of creating agressive and obscure musical art inspired by merciless emotions of hatred and sorrow, brought to from the unity of spirit and mind : the cosmic duality, the purest real self; and guided by the eternal flame of chaos and vengeance to slay and crush the weak and infidels to this immortal way of existence: TRUE METAL OF DEATH.

Conceived during 2000 by guitarrist/vocalist Roberto Lizarraga and brought to reality during 2001 when drummer Joel Marquez (x-Sadistic Intent) united in dark alligeance. A three piece line-up was completed in November 2001 when bass player Carlos Escobar (x-Diable Vesta Mortar) left his previous band to join in on this everlasting crusade for punishment and torment. In July 2002 a 2nd. guitar player was added, Noel Bello (x-Ninth Level) entered the band to follow the blackened path illuminated by the dark light of INFINITUM OBSCURE. Joel Marquez departed from the band for an 8 month period and was replaced during that time by 2 different session drummers, but now Joel is back for good and the line-up complete once again.

A self-released demo CD entitled "Ipsus Universum" was unleashed in March 2003, produced by Ed Talorda of San Diego's MORTUUS TERROR, and was distributed to various places through the band, true friends and supporters.

This led Chicago's underground cult lable UTTERLY SOMBER CREATIONS to show interest in the band and signed them to release a split MCD with Chicago's ANCIENT GODS, now released in September 2003 anmd is available through Utterly Somber Creations and various REAL underground metal distrbutors world wide.

In April 2002 INFINITUM OBSCURE did a very succesful mini-tour in Baja California with legandary spanish heavy metallers ANGELES DEL INFIERNO consisting of 2 dates in Tijuana and Mexicali.

In September 2003 INFINITUM OBSCURE did a mini-tour in the mid-west of the United States as part of the "AZTEC UNDERGROUND LEGIONS GATHERING" in Cudahy, Wisconsin and Chicago, Illinois. Along with "EARACHE RECORDS" recording artists THE CHASM as headliners as well as OBEISANCE and ANCIENT GODS (both on Utterly Somber Creations also) with a VERY satisfiyng result.

Since 2001 INFINITUM OBSCURE has shared the stage with bands like ANGELES DEL INFIERNO, INCANTATION, THE CHASM, SERPENS AEON, RISE, DISGORGE (mex), ANCIENT GODS, OBEISANCE, DISGORGE (usa), FUNERUS, SIX FEET UNDER, ABYSSMAL NOCTURNE, MORTUUS TERROR, NOCTUARY, WINTER THRALL, THANATOLOGY, SUMERIA, SEVERED, TEABAG, IMOTHEP, ETERNAL DAMNATION, SOLUCION MORTAL, DOMINATION, MAN DESTROYS HIMSELF and DODECAMERON amongst others.

The band is in total dedication of composing their new destructive death hymns that will be part of their first full-length release and is currently searching for a ture and dedicated underground lable to handle the executive production of the album.
BANDAS | BANDS
PROMO ON-LINE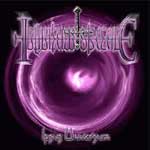 Infinitum Obscure - Ancient Gods SPLIT CD
ANCIENT GODS
01. Infinite reality of Evil
02. Tyrant of the abyss
03. The temple of the lost
04. Unholy engraved
INFINITUM OBSCURE
05. The Ninth Gate
06. Shunned by thy Dark Light
07. Storm of Impious Hatred
08. Beyond a Dying Sun
Más discos de INFINITUM OBSCURE
More albums of INFINITUM OBSCURE
NOTICIAS | NEWS