SABACTHANI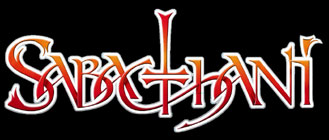 CONTACTO | CONTACT
País | Country: MÉXICO

Estatus | Status: ACTIVO
Fecha de registro | Register date: 2003-05-28
Última actualización | Last update: =2003-05-28
sabac_thani@hotmail.com WWW


LINE-UP
Ayu Davalos - Voz
Noel Avecilla - -Guitarra
Omar Rufino - Guitarra
Miguel Angeles - Bajo
Juan Sandoval - Bateria

DISCOGRAFÍA | DISCOGRAPHY
The Reformer
BIOGRAFÍA | BIOGRAPHY

BIOGRAFIA 2003

Sabacthani se formó en 1999.

Durante algún tiempo, el grupo se dedicó a componer algunos temas para darse a conocer en el ambiente metalero, logrando un death metal técnico de gran potencia.

Teniendo algunos temas listos, el grupo grabó un demo con cinco canciones en el año 2000, titulado Inmense Dark Horizon. Con este demo en el mercado, el grupo logró salir del anonimato presentándose en el Distrito Federal.

Con algunos cambios en la alineación original, Sabacthani mantiene su pasión por los riffs y la melodía de gran poder. Toda la música es compuesta por Omar Rufino, mientras que los temas son escritos por Jorge González.

El año 2002 es de buen augurio para Sabacthani, después de algunas presentaciones era tiempo de meterse al estudio de grabación para producir su primer disco sencillo con cuatro canciones, titulado The Reformer.

El grupo continúa presentándose en diversos escenarios del Distrito Federal y en algunos estados de la república como son: Estado de México, Toluca, Tlaxcala, León, etc.

En el 2003, Sabacthani graba su primer disco de larga duración titulado Winding Forest; éste contiene diez temas de gran potencia lírica y musical, mejorando sus melodías, sin perder la esencia del death metal técnico.

Esta grabación fue producida de manera independiente.

Algunos de los temas incluidos en Winding forest son: The Reformer, Winding Forest, Scent to Fatality, Under the Storm y Reason or Lie.

BANDAS | BANDS
VIDEO
PROMO ON-LINE
NOTICIAS | NEWS