GRENOUER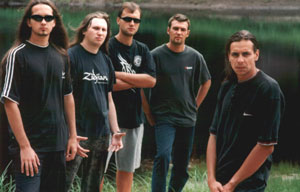 CONTACTO | CONTACT
País | Country: RUSIA | RUSSIA

Estatus | Status: ACTIVO
Fecha de registro | Register date: 2002-12-10

vladushka86@mail.ru WWW


BIOGRAFÍA | BIOGRAPHY

BIOGRAPHY 2002



GRENOUER WAS FORMED IN LATE 1992 TO PLAY BRUTAL DEATH METAL. INTIAL
LINE UP HAS CHANGED CONSIDERABLY AND THAT'S WHY THE MUSIC HAS ALSO
CHANGED. GRENOUER TODAY IS LESS BRUTAL AND LESS FAST YET MORE
CATCHING. IF YOU'RE INTO ENTOMBED'99 OR BENEDICTION'98 - THAT'S WHAT
GRENOUER IS INTO. THE BAND HAS PLAYED A GREAT NUMBER OF GIGS IN RUSSIA
AND HAS ALSO GOT FOUR VIDEO CLIPS. CURRENT LINE UP: IND - VOCALS,
MOTOR - GUITAS, SLAVA - BASS, KOS - DRUMS.



DISCOGRAPHY

demo 1993 "DEATH OF A BITE"

album 1996 "BORDER FO MISTY TIMES"

album 1999 "GRAVEHEAD"

album 2001 "THE ODOUR O' FOLLY"

expected in early 2003 "PRESENTS WITH WAR"

BANDAS | BANDS
NOTICIAS | NEWS