CAGE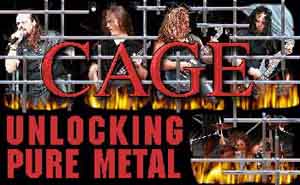 CONTACTO | CONTACT
País | Country: ESTADOS UNIDOS | USA

Estatus | Status: ACTIVO
Fecha de registro | Register date: 2002-07-22

sean@cageheavymetal.com WWW mp3


LINE-UP
THE BAND
Sean Peck (Vocals)
Dave Garcia (Lead Guitars)
Mike Giordano (Bass Guitars)
Mike Nielsen (Drums)
Anthony Wayne McGinnis (Lead Guitars)

BIOGRAFÍA | BIOGRAPHY

BIOGRAPHY 2002

American Power Metal band CAGE

SAN DIEGO, CA. - June 2002…CAGE, just the name implies the image of unbreakable steel and an inescapable trap. The perfect moniker for the heavy metal leader of the next phase of heavy rock music. Critics and fans alike have tried to label or classify this 5 piece group from the glistening shores of San Diego California, with terms like "pure millennium metal", "classic metal for the new age" or "modern day power metal". Whatever you want call them, you should also add "contagious and infectious", as they inspire people to continue to press replay when the cd is in their stereo, and " let's go see them again" when they play live.

In 1992 as grunge, despair, and flannel shirts pushed the arena metal sound of the 80's into the realm of extreme un-coolness, ironically CAGE was born. Some bands are great musicians but just don't have "it", that magic that makes certain performers special. CAGE has that "it", and it comes from following their musical hearts in an uncompromising way right from their earliest beginnings. They could have tried to follow the 3 or 4 different musical trends that have come and gone since then, but instead they wrote songs that inspired that feeling that only the sound of heavy metal can deliver.

Although a full-length cd was recorded in 1995, it has still remained un-released. It wasn't until 1998 that CAGE released their first full-length cd appropriately called "UNVEILED".

This cd had the advantage of 6 years worth of material and news quickly began to spread through the underground metal community that a new band from San Diego had somehow captured the magic of timeless heavy metal. CAGE had very little contacts but worked the pavement hard sending out over 300 promo packages that contained some of the most illustrious packaging an independent band had ever assembled. Backed financially by singer Sean Peck who worked in the lucrative Southern Californian real estate market, this independent band had better packaging and promotional materials than that of a band signed to a major label. More importantly though, UNVEILED was blowing people away. The reviews began coming in and they were unbelievable. The cd began selling quickly as independent distributors were contacting the band and sending cash orders in large and rapid fashion.

Then the calls started coming in from Europe. This market was unknown to CAGE but apparently they loved the cd so much that despite a massive marketing campaign, even more contacts found their way to the band. A journalist named Jurgen Tscmaler saw something in CAGE and believed that they could be the start of something huge. Unbeknownst to the band, Jurgen entered them in a prestigious best-unsigned band contest for ROCK HARD magazine. The winner of the competition would be awarded the opportunity to play at the world famous DYNAMO festival in Holland. The competition for 1999 had over 600 bands competing and the winner was selected by the fans votes, not the critics. CAGE has always been a band of the people and this competition was no exception as CAGE won the contest by over a 2 to 1 margin.

CAGE was on their way to play the DYNAMO in Holland, which was headlined by METALLICA that year. As they prepared for their biggest show ever, the calls from record labels began pouring in. The competition had carried with it a lot of exposure as the winning song SHOOT TO KILL was featured on a cd that came with the magazine. Something like 80,000 copies were distributed and SHOOT TO KILL was the first song on the cd. After months of negotiations, CAGE settled on OMEGA RECORDS who made them the number one band on the label. CAGE signed their first record deal immediately after their ripping performance in front of an estimated 8,000 at the DYNAMO. CAGE had delivered a performance that sent shockwaves through the metal press, as a virtual unknown had stolen the show in the eyes of many journalists.

Being one of the few remaining metal bands in Southern California at that time had certain advantages. CAGE was able to hone their live skills in front of huge crowds on a consistent basis by opening for virtually every touring metal band that came through the region. Whether it was amphitheatres with IRON MAIDEN and DIO, sold out theatres with JUDAS PRIEST and DOKKEN or simply headlining on their own, CAGE always made the most of their opportunities delivering shocking power, and the instant gratification to new audiences due to their catchy yet heavy material. CAGE developed a huge fan base that kept them at the top of every promoters list because they were professional and more importantly to them, sold tons of tickets.

CAGE was clearly on their way and their string of huge local shows continued. They began writing for their follow up cd, which put them under tremendous pressure to avoid the sophomore jinx. Reviews were so outstanding on UNVEILED that an incredible follow up was mandatory. Right before the DYNAMO, CAGE had added drummer Mikey Niel to the band to increase the power and speed of the group. This proved to be an excellent move as his impact was a key factor to the success of their second release "ASTROLOGY". The band had matured and was a close-knit group after 8 years of big performances and recording together. This maturity, and an increased musical proficiency, combined with great song writing, to make the critically acclaimed masterpiece that is ASTROLOGY.

Omega Records released ASTROLOGY in September 2000 in Europe. The media and fan response was incredible, and the praise was unthinkably even greater than that of UNVEILED. An intense media campaign ensued and the response was overwhelmly the same.

How did CAGE deliver a second cd that had so much progression, that it sounded like it was their 4th or 5th release? The success of the ASTROLOGY cd allowed CAGE to make the next advance in their career by playing 2 festivals in Europe in the summer of 2001. They were selected to play the prestigious WACKEN Open-Air Festival in Germany and the METAL DAYZ Open-Air Festival in Switzerland. CAGE has been reviewed by local and worldwide critics at shows abroad and have commented time and time again, that they possess a special quality in their live performance. That "it" happens when they play live, and that has garnered them accolades time and time again as the "best band of the festival". This was the case at the WACKEN and the METAL DAYZ as CAGE captured the imagination and attention of everyone in attendance. These were the pinnacle performances of their career to date and as always, they delivered when it counted the most.

Upon their triumphant return from Europe, more good fortune awaited our heavy metal heroes, as they would be signed to their first domestic deal. A new upstart company called World War III Records wanted to release ASTROLOGY in the US and Canada. WWIII Records believed in CAGE and Astrology's wide spread demographic appeal so much, that they hired radio publicists to fight for the cause. CAGE was the only band on the entire label that received this sort of radio support. CAGE was featured on many U.S. radio and internet based metal music programs receiving maximum spins, that at times overcame such heavyweight acts such as SLAYER.

Now the sky is the limit as CAGE prepares to record their 3rd album "DARKER THAN BLACK" in July 2002, which will be their 1st European release on their new recording contract with MASSACRE RECORDS from Germany. The album will be recorded at the world famous SILVER CLOUD Studios (Bruce Dickinson / Halford / Rob Rock) in Los Angeles, California. The recording will be handled by renowned metal producer Joe Floyd (Warrior guitarist), who among his vast production credits includes working alongside the hottest metal producer of the moment ROY Z (Bruce Dickinson / Halford / Helloween / Rob Rock) in engineering and mixing the recently released HALFORD-CRUCIBLE cd. DARKER THAN BLACK is expected to be released in the fall of 2002 worldwide.

The new album will find CAGE playing faster and more aggressive songs. For the 1st time ever, vocalist Sean Peck will combine clean power and black metal vocal parts on the song BOILING WITCHES. The new album will also include the already WACKEN road-tested classic metal anthem KILL THE DEVIL and the unbelievable 8 minute plus monster metal track WINGS OF DESTRUCTION which will feature out of this world multi-track vocals and totally insane guitar playing, to include appearances from some very special guests.

This long awaited release will surely elevate them, and the arena-metal sound that they represent to newfound greatness in this second millennium. CAGE has "it", and "it" is coming for you too!
BANDAS | BANDS
NOTICIAS | NEWS