OBSIDIAN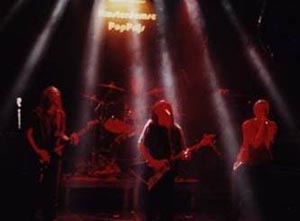 CONTACTO | CONTACT
País | Country: HOLANDA | THE NETHERLANDS

Estatus | Status: ACTIVO
Fecha de registro | Register date: 2002-06-16

sjaak@cannedbee.nl WWW


LINE-UP
Simon Lawford: Guitar, Grunt
Sjaak Kassies: Guitar, Grunt
Glen Loupias: Bass
Gertjan Bouman: Drums
BIOGRAFÍA | BIOGRAPHY

BIOGRAPHY 2002

Melodic death metal from Amsterdan, Netherlands

Obsidian started playing in 1997 in Amsterdam but in 1998 we started writing our own songs under the current name. For each song we spend a lot of time. That's why every song stands on it's own and represents its own period in time.

Inspiration we get from bands like Death, At the gates and Meshuggah. But other influences sneak in to.

In 2001 Obsidian had its first mentionable gig when we were competing in the Amsterdam Popprize 2001. We reached the final and played in the OCCII, Paradiso and Melkweg.

Recently we competed in the Metal battle 2002 and once more reached the final in the Atak in Enschede.
At this point we recorded 2 demos and are working on the third. The first is not available anymore because of its poor record quality.




BANDAS | BANDS
NOTICIAS | NEWS