TWILIGHT GLIMMER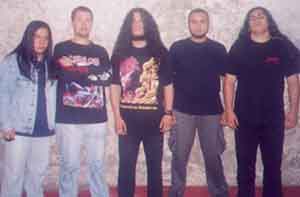 CONTACTO | CONTACT
País | Country: COLOMBIA

Estatus | Status: ACTIVO
Fecha de registro | Register date: 2002-05-05

twilightglimmer@hotmail.com


LINE-UP
LEO PINZON on vocals
LUIS NIETO and JUAN BULLA on guitars
EDIXON SEPULVEDA on drums
CARLOS MARULANDA on bass
BIOGRAFÍA | BIOGRAPHY

BIOGRAPHY 2002

December 1998, Edixon Sepulveda, Adrian Holguin and Ricardo Velasquez were searching for the perfect voice and rhythm guitar for their melodic death metal project; then at the right time Leonardo Pinzon and Ricardo Linares came in to fill these needs in the twilight line up.



The musical work became harder and the band became more serious than ever; each one of their first shows left a great image and the name of the band was heard all over the country.



There were a lot of good shows and great experiences for these devoted musicians but Ricardo Linares left the band and then came in Juan Bulla , the guitarist that fitted perfectly within the ideas they were fighting for.



Late 2000 after many shows and keeping the well known name of the band in a high place because of their melodies and their skills to melt energy, power, virtuosity and heaviness into one original signature, the Twilight Glimmer identity; DECADE Records saw what they were looking for in the these guys, and they signed their first record deal.



Ricardo Velasquez the bassist quit the project and he was replaced by Luis Nieto for a while but then came in Carlos Marulanda to take four strings and to put his own musical knowledge in order to create the Twilight unique sound.



Luis Nieto was one of the most greatest guitarist on the scene so he was better for the seven strings instrument and replaced Adrian Holguin on the lead guitar.



Their first album "PARADOX" was recorded in la oreja studio in 2001 showing everyone what was TWILIGHT GLIMMER about.
BANDAS | BANDS
NOTICIAS | NEWS